The moving poetry of Tracey-Mae Chambers
It is our honour to shine the spotlight on Tracey-Mae Chambers' powerful, moving, and poetic installations and interventions using her signature red yarn to tell important stories of suffering, resilience, and healing.
Chambers' exceptional work has been recognized by the Best of 3D Works Award supported by the Greenrock Charitable Trust in memory of Al Green, and the Most Innovative Use of Material Award, supported by Lonsdale Gallery. Our sincere thanks to our caring award donors. We hope these awards support Tracey-Mae's artistic explorations to new heights.
Please take your time to get to know her work and inspiration closer.
PS. Our call for volunteers is open. Join us if you'd like to support our artists and spend a summer weekend in the city surrounded by great art.
---
Tracey-Mae Chambers
Recipient of Best of 3D Works & Most Innovative Use of Material Awards
Tracey-Mae Chambers is a Métis artist and a member of the Métis Nation of Ontario. Her family is from and continues to reside in the traditional Métis community of Sault Ste. Marie and Penetanguishene, Ontario. Chambers travels across Canada and the United States creating site-specific art installations at historical sites of residential schools, cultural centres, museums, art galleries, and other public spaces.
Her ongoing body of work, then #HopeHealingCanada project, is made using crochet, knit and woven red yarns to illustrate connections between Indigenous, Inuit and Métis people with Canadians. Through her use of public spaces, she also explores the themes of decolonization.
From the Best of 3D Works Award judge
"Tracey-Mae Chambers' site-specific installations transcend political and cultural reductions, becoming expansive poetic statements. Her works incorporate red yarn as a physical and material evocation of pain, hope, mending, and connectivity. The installations begin by addressing colonialism's haunting and persistent effects on Indigenous peoples in Canada. Then, they continue to grow through abstraction, chaos, and playfulness with gentle living energy. I was captivated by how her ideas and aesthetics generated forms, shapes, and new spaces that were complex, diverse, and synthesized decisively into a unified body of work."
– Carlo Cesta, Artist
From the Most Innovative Use of Material Awad judge
"Tracey-Mae Chambers was selected for their use of thread as an intervention on space. Her interventions in residential school sites are not only powerful but essential as we look for tools to reflect on the impact of this legacy."
– Corrie Jackson, RBC Senior Curator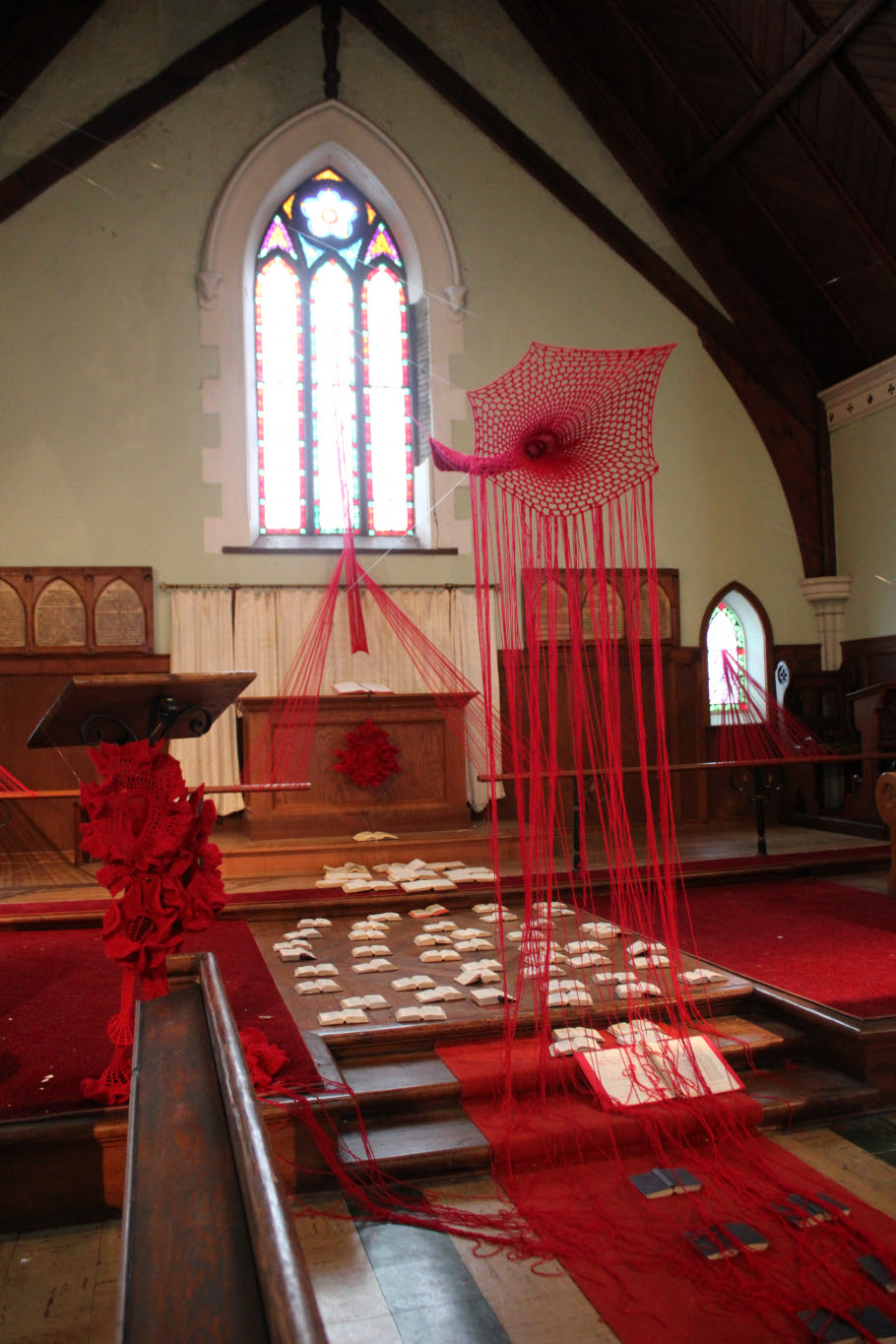 ---
---
If you are passionate about Toronto, arts and culture, or working directly with artists, consider volunteering at #TOAF62 this Summer! The 62nd Toronto Outdoor Art Fair will take place at Nathan Phillips Square this July 7 to 9.⁠ Register and learn more about the variety of volunteer opportunities on our website. We're also thrilled to announce that we are part of the Volunteer Award for Arts & Culture (VAACT) this year, which recognizes the incredible contribution volunteers make to organizations across the city.