Street Art by Alexander Lazich and Que Rockford.
Get ready for StreetARToronto Live Painting, the electrifying live program by some of Toronto's beloved graffiti artists all throughout the weekend. TOAF collaborates on this joint project with StreetARToronto (StART), Artusiasm and Civic Hall Toronto.
This summer, Elicser Elliott, Mes 3, Meaghan Claire Kehoe, Que Rock, Jenn Kitagawa, and Adrian Hayles will be creating work live on site. Better yet, bring these works of art home! Bid on final works at the StreetARToronto Booth in the Info Hub.
Learn more about our amazing graffiti artists, who will be transforming the Info Hub at TOAF into an art piece-in-the-making.
Friday, July 12
Elicser Elliott
10 am | @ Info Hub
Elicser Elliott explores narrative structures, new surfaces, and new sensations, through the lens of more than a decade spent in the global aerosol art community. A distinctive character based practice, the work of Elicser is highly visible in major cities from Toronto to South America to South Africa.
Mes 3
1 pm | @ Info Hub
"I was born in an apartment on Roncesvalles Avenue in Toronto's West End. I grew up surrounded by early graffiti, playing in the laneways behind my home. I saw the Pez tags and marvelled at the Keele Graffiti Wall from the subway. I found it fascinating that these artists were prolific and yet anonymous and picked up my first can of spray paint in 1999. Street art starts conversations that may otherwise be left unsaid, it can give a voice to those who often feel unheard, fosters human connection, and allows communities to experience the infrastructure of the city in new and inspiring ways." – Mes 3
Saturday, July 13
Meaghan Claire Kehoe
10 am | @ Info Hub
Kehoe is a full-time street artist and muralist from Toronto. Her focus is to find an accessible and impactful way to spread love and acceptance for the diverse communities of our city and country. Kehoe's work is recognized for her powerful portraits and vibrant colours.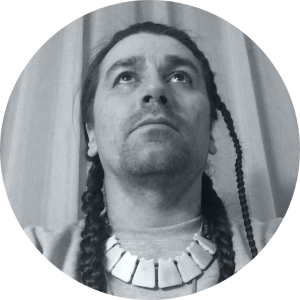 Que Rock
1 pm | @ Info Hub
"I am a Nipissing First Nation born artist. I started life learning my cultures teachings, approaches and ceremonies through visual healing art forms. Painting, dancing, leatherwork and storytelling were taught through traditional Ojibway and Odawa ways. My mentors encouraged me to be creative and to not let anything go to waste with what I share in art.
As a traditional Anishnawbe first nations graffiti artist, my work has matured from quick pieces into large street art projects and canvas work. Using my teachings and different methods I focus on unique painting styles and techniques to create smooth transitions of colour, blending abstract form with realism and expressionism.
I take interactions of my daily life, the city I live in and my Anishnawbe culture. I use it as a challenge for me to try out new styles and incorporate new subject matter. My love of nature and animals is prominent through my work because of its deep meaning and connection to life. I aspire for my artistic evolution to form a distinct look and feel.
I call my style, Making the woodlands dance. Norval Morrisseau best describes how I approach my painting, he says as "If you can imagine an x-ray photo of spirit". My goal is to portray the teachings of my ancestors, sacred geometry and shapes in all my art forms." – Que Rock
Sunday, July 14
Photo credit: Chelsee Ivan
Jenn Kitagawa
10 am | @ Info Hub
Jenn Kitagawa is an award-winning multidisciplinary artist who grew up in Alberta, Canada. She is of Japanese descent and is 4th generation, or Yonsei. She graduated from MacEwan University and the Alberta College of Art & Design, studying both graphic design and illustration. After receiving her Bachelors of Design, Jenn moved to New York and interned for artist Mike Perry and for Nylon magazine. Jenn's body of work- illustration, gifs, murals and installations, engages in a dialogue of openness and curiosity. She has created work for Google, Etsy, and also created the album artwork for Gord Downie's record Introduce Yerself.
Adrian Hayles
1 pm | @ Info Hub
Adrian is a multi-talented artist and a bit of a renaissance man: he has experience ranging from mural painting to video-game and cartoon design, ink and graphic illustration, and Graphic Design, and everything in between, as well as co-director at #Hashtag Gallery where he curates and teaches drawing.
Swing by the Info Hub during the Fair to enjoy live painting performance!