This is it. We have come to the end of the 60th Toronto Outdoor Art Fair. It has been a worthwhile ride.
This year, 80% of the participating artists were online, and all 30 programming events of artist chats, talks, studio tours and our award ceremony were held virtually. We witnessed a wonderful response from all across the country and beyond, including the media and our community at large. We will tell you more about the impact next week.
We feel incredibly lucky and proud to have been able to pull off this small, rotating in-person showcase at stackt market. It was a symbol of hope and a step forward to coming together. We were all energized by meeting some of the artists in person, by greeting some of our audiences again, and seeing avid TOAF fans coming every other day to connect with artists. With this energy, we felt we created an organic and strong synergy between the physical and digital. Both platforms supported each other in new and exciting ways that have given us more ideas for the future.
Last year, all of our memories of the fair were left in the digital space, and it was a very strange feeling to say goodbye without having exchanged face-to-face smiles, elbow bumps and air hugs! This year, our digital memories are joined seamlessly with many beautiful encounters, joyful conversations and enthusiastic hugs (air hugs!).
Our last program of TOAF60 is one final Artist Chat and our TOAF60 Send-off. Yesterday's Art Collectors in Conversation with Rudy Adler was a dynamic and engaging talk about art and new technologies. It is one to remember and if you missed it, you can watch it on our Youtube channel along with our other Art Talks. Today, we come back to the land, the earth and the most familiar genre of art in The Altered Landscape, a collection of unconventional and exciting landscapes by Pennylane Shen. It is also fitting to end this round of curated collections with the poetry of Artist-healer and storyteller, Kristen Sison, in Gesturing at the Divine.
See you for our final day at stackt market!
Banner image: Polka Dot Water, Samantha Williams-Chapelsky, 2020, Acrylic on birch panel. Part of Pennylane Shen's curated collection.
---
Curated Collections
*Peggy's Cove Gift Shop, Esther Eunyoung Park, 2020, Acrylic Ink with Pen on wood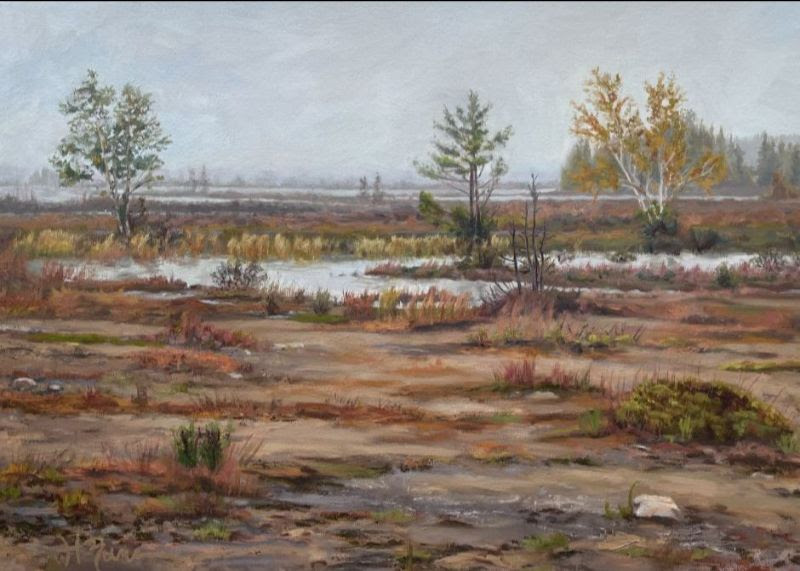 Alvar Contradictions, Manitoulin Island Ontario, Heather Munsie, 2021, oil on canvas
Walking in the cloud, Michael Hu, 2020, Digital
Algonquin Path, Chuck Lewis, 2020, Ink and watercolour
---
What's On Today
Artist Chats with Deloris Chen & Jinming Li
12:30 pm | Instagram Live
With Artists Deloris Chen and Jinming Li
Join a casual conversation between digital media artists, Deloris Chen and Jinming Li, to get to know more about their creative processes, inspirations, and their works at TOAF60.
TOAF Send-Off
3:30 pm | Instagram Live
We can't believe the fair is already done! Join us as we host our send-off celebration with the TOAF Team.
---
2021 Award Winners
As An Astonished Contemplation, Biba Esaad, 2021, Oil Paint on Canvas, 120.65 x 92.71 x 3.81 cm
The Power Plant Emerging Artist Award | Biba Esaad
Supported by The Power Plant Contemporary Art Gallery
Judged by Joséphine Denis, Curator and Writer
Flower For One, Anthia Barboutsis, 2021, sterling silver & Swarovski crystals, 47 x 1.3 x 1.5 cm
The Artscape Emerging Artist Award | Anthia Barboutsis
Supported by Artscape Daniels Launchpad
Judged by Joséphine Denis, Curator and Writer
Most Innovative Use of Material Award | Michelle Cieloszczyk
Supported by Lonsdale Gallery
Judged by Stanzie Tooth, Artist
Honourable Mention 2D Works | Dorion Scott
Supported by Above Ground Art Supplies
Judged by Karen Tam, Artist
Ceramics Excellence Award | Émilie Coquil
Supported by Tucker's Pottery Supplies
Judged by Simone Elizabeth Saunders, Textile Artist
Ceramics Excellence Award | Christine Nnawuchi
Supported by The Pottery Supply House
Judged by Simone Elizabeth Saunders, Textile Artist
Student Purchase Award | Yuki Wong
Supported and selected by House of IDEA
Honourable Mention Painting | Steven Restagno
Supported by Gwartzman's Art Supplies
Judged by Daniel Faria, Gallerist
Honourable Mention Photography | Ava Margueritte
Supported by Jeremy Does Art Prints
Judged by Anique Jordan, Artist, Ariter and Curator
Honourable Mention Paper | Sylvain Côté
Supported by The Japanese Paper Place
Judged by Nancy Jacobi, Founder of The Japanese Paper Place
---
TOAF60 on the screens of Yonge-Dundas Square!
We thank our friends at Yonge & Dundas Square for their utmost generosity for sharing our beautiful TOAF60 videos on their screens throughout the Fair. This was our first billboard experience, and we are a bit too excited!