Dance with us – Day 5 of TOAF62
Tomorrow is the big day and we are enthusiastically looking forward to hosting you at Nathan Phillips Square. Here are some more details about your weekend. This art-filled weekend wouldn't be complete without a good dose of live music and dance performances.
We can hardly wait to see Leap (of faith), a new site-specific dance commission by choreographers Jenn Goodwin and Sarah Doucet. Leap is layered with poetry, architecture, vulnerability and a great sense of humour. It will take place in an unexpected location at Nathan Phillips Square.
Small World Music has once again put together the best bands for a perfect summer day in the city. The captivating sounds of Las Empanadas Ilegales, Kazdoura, and Trash Panda Brass will surely charm you to a twirl.
Friday and Saturday, the Beer Garden will be open late until 9:00 PM, serving the exclusive TOAF beer from Henderson Brewing and hosting super cool DJs, INTRINITY and Sawtay. Be ready to dance with us!
Today's studio tour takes us to Québec to experience an exclusive behind-the-scenes glimpse into the world of contemporary quilts created by Marilyn B. Armand. In the live Artist Chats, Laura Kay Keeling and Carolyn Cheng will compare notes on their unique visions of the natural world that influences their works.
For the Curated Collections of the day, Canada's fashion guru, Jeanne Beker brings you an exquisite selection of works in Fashionable Finds and William Huffman, shares his keen eye for Something Completely Different.
We are excited to see you tomorrow at the Square!
All of us at TOAF
---
Leap (of faith)

The final installment of a trilogy of danceworks by Choreographer Jenn Goodwin and collaborators, examines collectivity and poetic physicality, solidarity and the feminization of space, and resiliency in the face of day-to-day challenges. Choreographed by Sarah Doucet and Jenn Goodwin.
---
Small World Music returns to bring an electric selection of bands and musicians including Las Empanadas Ilegales, Kazdoura, and Trash Panda Brass.
---
---
Curated Collections
Fashionable Finds
Curated by Jeanne Beker
Now for Something Completely Different
Curated by William Huffman
---
What's On Today
Artist Chat Laura Kay Keeling & Carolyn Cheng
Laura Kay Keeling and Carolyn Cheng, both participating in the Photography and Digital Media category, compare their visions of the natural world.
Studio Tour with Marilyn B. Armand
Welcome to the studio of Marilyn B. Armand. Marilyn brings us to Bedford, Québec to show us her unique contemporary quilts.
---
Thank you
Beer Garden by Henderson Brewing Co.
Friday & Saturday 12:00 – 9:00 PM
Enjoy a TOAF exclusive craft beer by our friends at Henderson Brewing Co. For this July's 'Ides' beer, they brewed a very quaffable, subtly fruity and spicy Kõlsch with a crisp and clean finish, perfect for a warm Summer's day. The beer label art is by Sasha Sutherland, recipient of the 2022 Best of Painting Award. Sasha works with vibrant colours to lend a utopian dimension to the cities she depicts.
You can also buy this beer in a pack at TOAF (Zone D) and take it home with you.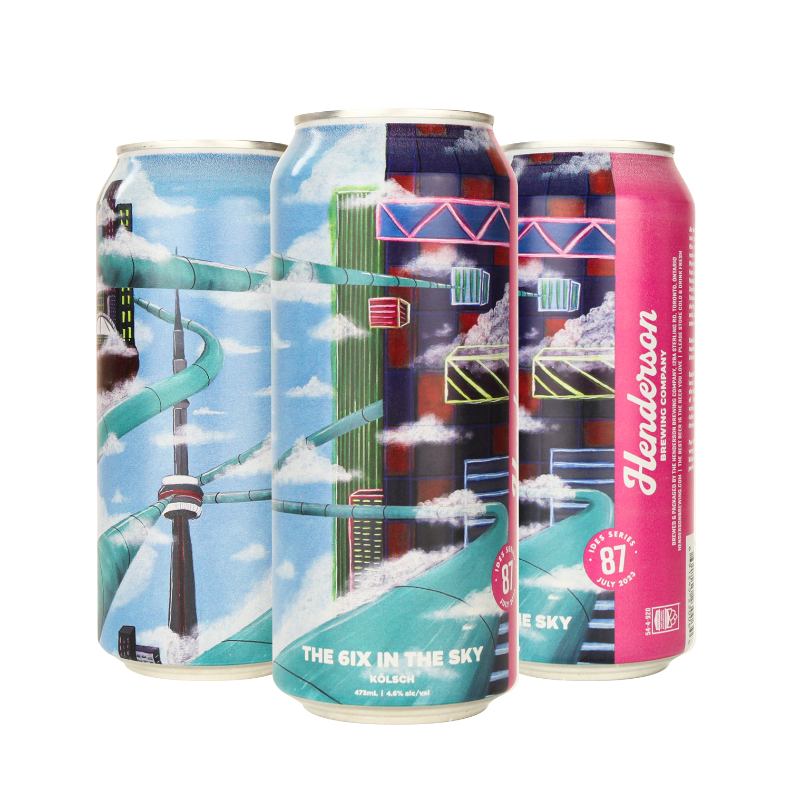 ---
Finding new homes