Dear friend of TOAF,

As tradition, we have saved someone truly special for the finale of our Awards series — Vanessa Dion Fletcher.

Vanessa is committed to investigating the complex meaning of the body in her various artistic expressions and explorations. For her mixed media works, she pushes the boundaries of millennia-old Indigenous quillwork, creating an intimate, sublime and arresting body of work that teases the curiosity of the viewer, inviting them to explore the intricate details up close. She leaves us with a sense of wonder, awe and deep appreciation for her powerful, meticulous, yet visually subtle abstractions.

Vanessa's artistic prowess is reflected in her achievements, having received the 2022 Catherine Bratty Best of Art Fair Award, a $6,000 cash prize generously supported by The Rudolph P. Bratty Family Foundation.

As you may remember, Vanessa received the Mayor's Purchase Award the previous year, and her work is a part of 60 Works/60 Years at Market Gallery. This exhibition is coming to an end on June 7, 2023 and we invite you to make a visit to this unique showcase if you haven't done so.

The TOAF62 artist roster is coming your way next week, and of course, we are excited! Please stay tuned.

Thank you for giving our artists your attention and reading along.
anahita
---
Vanessa Dion Fletcher
2022 Recipient of the Catherine Bratty Best of Art Fair Award
Vanessa Dion Fletcher is a Lenape and Potawatomi neurodiverse artist. Her family is from Eelūnaapèewii Lahkèewiitt (displaced from Lenapehoking) and European settlers. She employs porcupine quills, Wampum belts, and menstrual blood to reveal the complexities of what defines a body physically and culturally. Reflecting on an Indigenous and gendered body with a neurodiverse mind Vanessa creates art using composite.
From the award judge
"Vanessa Dion Fletcher's work finds its strength in both its materiality and its form. Fletcher advances and engages with the long and important history of quillwork – learning from traditional techniques, while also pushing our expectations of the medium, engaging quillwork on paper with delicacy and sensitivity to the mediums. Most striking is Fletcher's use of composition and palette, creating imagery that is both distilled and powerful in presentation. Formal abstraction is rendered intimate through the use of material and dye of the quills themselves."
– Corrie Jackson, RBC Senior Curator
Tell us about your studio space
I work at a collective studio called Blank Canvases, which is run by Ilene Sova. There are five of us who work there, and we all have individual workspaces and some communal space as well. I like having a place to go outside my apartment and having colleagues to talk art with. Sometimes we chat about what we're working on at that moment and give advice for future projects, grants etc. I'm so grateful to be able to work there.
What is next for you?
I'm looking forward to Spring and Summer, making new projects and some exhibitions. Currently, I'm working on a community art project for Transforming Grief: Loss and Togetherness in COVID. My project is Write To Me: an Indigenous Pen Pal Project. I'll also be joining the Indigenous Art Intensive 2023 at UBC Okanagan in Kelowna. I'm looking forward to seeing how that experience influences me.
A group exhibition Foot Trails at K Art In Buffalo, NY is on view until June 29, 2023. Also, stay tuned for more info about my solo exhibition with K Art this Summer!
In August, I'll be contributing to the Nii Ndahlohke, exhibit at Art Windsor-Essex. It's part of a project about the Mount Elgin Residential School. It's personally important to me to make sure I do my best work for that show.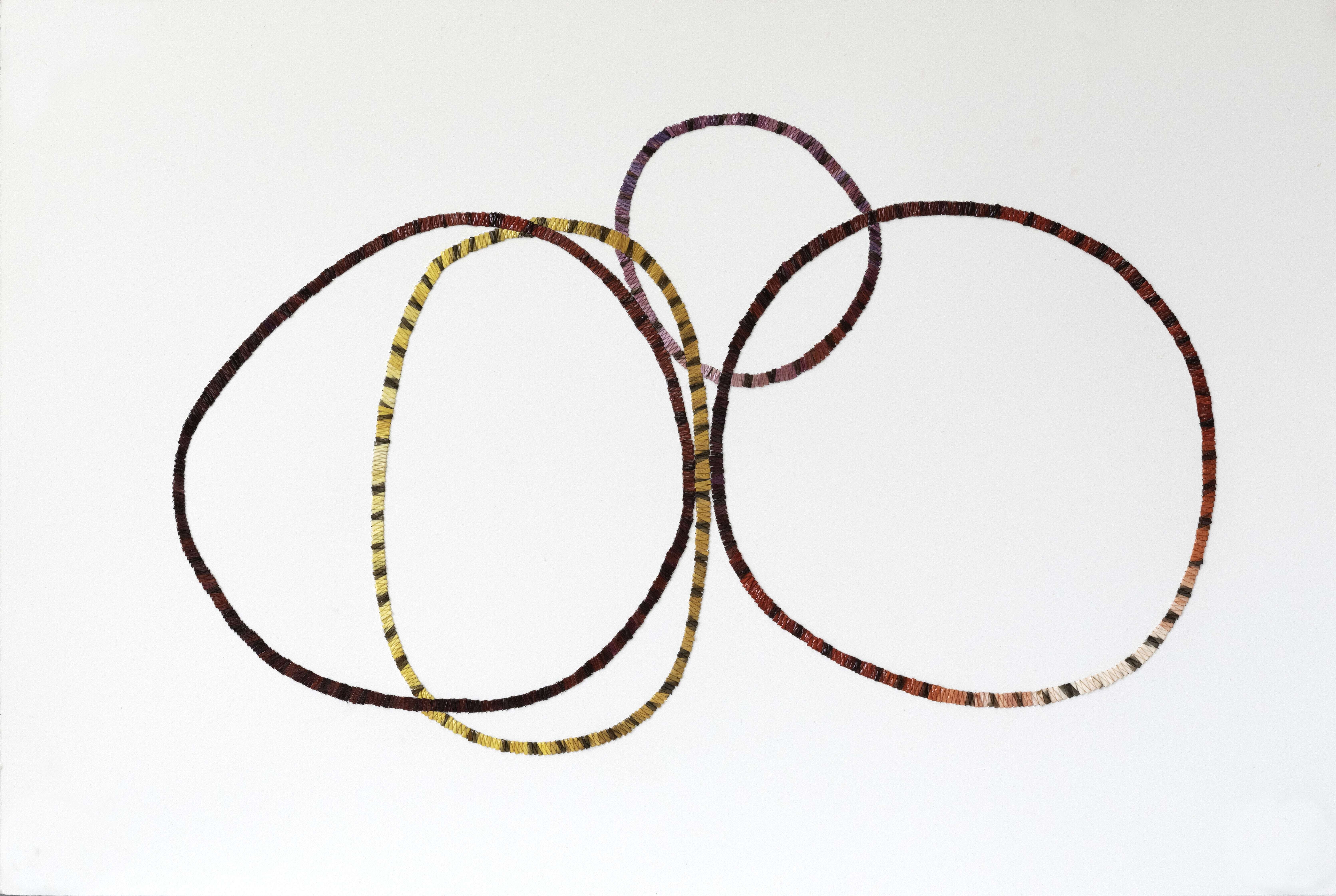 ---
If you are passionate about Toronto, arts and culture, or working directly with artists, consider volunteering at #TOAF62 this Summer! The 62nd Toronto Outdoor Art Fair will take place at Nathan Phillips Square this July 7 to 9.⁠ Register and learn more about the variety of volunteer opportunities on our website. We're also thrilled to announce that we are part of the Volunteer Award for Arts & Culture (VAACT) this year, which recognizes the incredible contribution volunteers make to organizations across the city.