The Canadian Cultural Society of the Deaf (CCSD)
The Canadian Cultural Society of the Deaf (CCSD), a registered non-profit organization since 1973, recognized as one of Canada's national arts service organizations, has received numerous awards for its Deaf arts productions.
One of our core mandates is to feature and foster high quality Deaf visual and performing artists' work to significantly increased audiences, with increased numbers of artist works, increased and strengthened partnerships to build and solidify capacity and our place in the arts eco-system. Partnering with the Palgong Tea Company allows us to expand, providing exposure to Deaf culture heritage and arts in a natural Deaf cultural space.
Visit the artists at Booth 281 at Nathan Phillips Square July 7 – 9!
---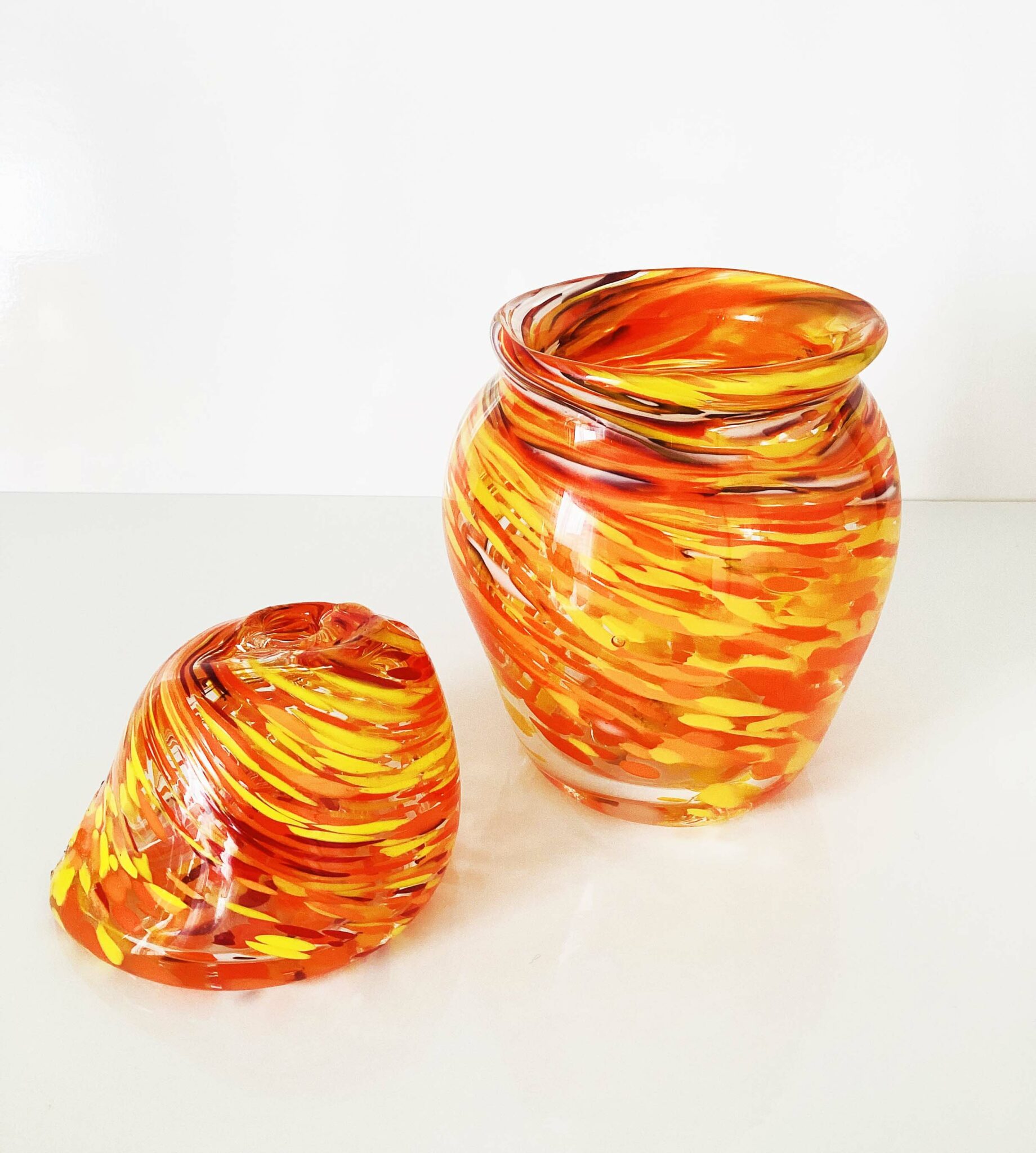 ILY, Carlisle Robinson
To Reveal or Not to Reveal, Pamela E. Witcher
---
Participating Artists
Melissa Brunner
Melissa Brunner (she/they) is a contemporary Deaf, Queer, and Disabled multidisciplinary visual artist known for their insightful watercolour portraits that capture subtle nuances in mood and emotion. Melissa's artistry explores facial expressions, various poses, and the interplay of lines and colours. In 2020, Melissa began doing commission work, and in 2021, their artwork was featured in an online exhibition called Deaf Interiors alongside five other Deaf artists. In 2022, Melissa was awarded 2 grant fundings from Guelph Arts Council and Ontario Arts Council in her professional development as well as painting socially deviant animals with a quirky perspective. Melissa's passion for community engagement and collective care is evident in their advocacy work for the Deaf and hard of hearing 2SLGBTQIA+ community.
Viktoriya Mikhaylova
Art has always been a prevalent theme in Viktoriya's life. Starting at the age of seven, she spent her childhood in evening art classes in her hometown of Vladivostok, Russia. Later, she received a college diploma in Art Design. Shortly after, Viktoriya aimed to focus on her art career but experienced many barriers and challenges as a Deaf artist in Russia, which prompted a switch of directions to earn an income. Viktoriya earned two more degrees in Interior Design and Publishing & Editing in an attempt to connect her lifelong passion for art with a career that could provide for her and her family.
In 2009, upon graduating, Viktoriya moved to Canada. Spending her initial years in Canada focusing on learning English and taking on a variety of different roles, it wasn't until 2014 that she picked up a paintbrush again. She began painting as a way of expression and continued studying new art mediums, such as glassblowing, to challenge herself and explore new possibilities.
Viktoriya's artworks have successfully sold out at a fundraiser for the Cahoots Theatre Company and for the Toronto Association of the Deaf. Viktoriya was granted two Professional Development grants from the Ontario Art Council, one in 2016 and the other in 2021. She also tutored with a professional glassblowing teacher in Ottawa. Viktoriya continues to trailblaze, bringing new methods of art and representation to the Deaf community.
Laurie Monique Landry
Laurie Monique Landry went to Emily Carr University of Art & Design and completed the Certificate in Fine Arts Techniques in 2008. Ever since, she has continued training with mentor programs and in- class workshops, such as Studio Escalier in France, Mandy Boursicot Atelier in Vancouver, and guided residencies at Toni Onley Artist Project and Arts Unfold. Laurie's painting style is traditional representation, yet incorporating modern materials and techniques when inspired. She uses colour and texture to create atmosphere and mood to try to capture the emotions, moods and likeness of her subjects. Influenced by painters Jenny Saville, Colin Davidson, Rembrandt and Frida Kahlo, Laurie found focus in contemporary portraiture, focusing on marginalized subjects such as those who are Deaf or living with a disability. She is currently exploring the corporeality of heterogeneous bodies. Laurie has exhibited in both solo and group exhibitions since 2013, and has received three Canada Council for the Arts grants to support her art practice. She now lives and paints in Vancouver, BC.
Peter Owusu-Ansah
Peter Owusu-Ansah is a Deaf visual artist. He believes we can communicate through our eyesight without using words. In 2009, when he zoomed into one of his Pop Art works, he became deeply curious about all the imaginable colours. Inspired by the pixelated colours and their connection to the nature of life, Peter uses Photoshop to create compositions that vibrate with energy. His works have been shown around Canada. Some of his works are privately collected in Toronto and New York. In 2021, his work was acquired by the TD Bank for its corporate collection. He also won the Murray and Marvelle Koffler Founder's Award at the Toronto Outdoor Art Fair.
Carlisle Robinson
Carlisle (they/them) is a Deaf Queer Canadian and American digital comic creator, illustrator, and project manager. They are passionate about educating the public with rarely told stories by the minority groups, especially Deaf people. Carlisle attended Gallaudet University for undergrad and graduated from The Center for Cartoon Studies in Spring 2015 with a Master of Fine Arts. Originally wanting to go into government, then in the education field, Carlisle realized that they instead can do advocacy work and education through artworks. Carlisle mainly uses Procreate on iPad and Photoshop on a computer to create their artworks.
Central themes of Carlisle's artworks revolve around people's journeys of self discovery, decolonization, shifting self perception, reclaiming individual agency, and reconnecting with ones' cultures amidst multifaceted identities within the Deaf and disabled communities. Carlisle's most recent graphic art project, "The Journey," is being shown in a solo exhibition at Deaf Culture Centre in May 2023. They currently reside in Tkaronto working as a Deaf Arts General Manager for Canadian Cultural Society of the Deaf.
Cameron Sault
Cameron Sault was born in Welland, Ontario. In 1994, when he was two years old, he got a serious illness and lost his hearing. He is profoundly deaf for the rest of his life. At the age of 5, his Opa (Dutch grandfather) started showing him basic woodworking and helped him to work with his hands. Later, Cameron got more into working with wood and learned all of his Opa's masterwork and abilities for many years. At the age of 13, he started his very own business cutting lawn around his neighbours to make extra cash to save money for his future business, which he wasn't certain what he wanted at the time. Some time after that, Cameron's parents took him to his father's good friend who owns a Zoo Park. The park has many creative metal sculptures around the park that caught his eyes that made him itch to build, but he was still too young. Later, when he was in college, he realized that he wasn't fascinated by his studies and the program because it didn't involve a lot of creativity or working with his hands. His mind was still wondering about building something unique with wood and metal fabrication. After college, he started building industrial furniture and metal sculpture around 2012 which he is still doing to this day. He has found his passion to build unique things that you don't see everyday!
Qi Rong Deng
Qi Rong Deng is a Deaf Asian Canadian visual artist whose captivating cubist portrait and still life floral works in acrylic and oil are deeply influenced by De'VIA painting. Deng's unique artistic style blends personal experiences with cultural heritage and highlights the richness and diversity of the Deaf community. Their paintings convey complex emotions and narratives and have received critical acclaim from both art enthusiasts and professionals. Deng's commitment to creating art that challenges assumptions and promotes understanding of Deaf culture continues to inspire and captivate audiences.
Pamela E. Witcher
Pamela E. Witcher – Multidisciplinary artist, interpreter, translator, cultural mediator and museum curatorship, Pamela finds it necessary to overlap old and new discoveries that have the power to change views and ideas. When the Deaf communities create information through art and documentation, our existence becomes concrete, known and valued. Pamela's works have been featured at Partition/Ensemble Conference, Dyers Art Center, Edinburgh International Book Festival, Écomusée du fier monde, Quebec on the Move!, À Bâbord and Signed Music: A Symphonious Odyssey.
---
Curator
Maryam Hafizirad is a Deaf Canadian Persian painter and sculptor. Graduate of Isfahan University of Fine Arts (2002) with her first exhibition at age 18 in Iran, her award-winning exhibitions have been featured in Iran, China, Germany, Malaysia, India & Canada. Maryam's Persian classical early works were dark in subject and colour with women's faces and bodies being forbidden. When she moved to Malaysia and settled in Canada, her work transformed. She began painting bright artworks with Persian and De'VIA metaphors. She also created colourful glazed sculptures centered around her Deaf identity, graceful languages, quiet strength and life.
Her hard work as an award-winning international artist, art teacher and student of art and De'VIA has earned her the opportunity to be mentored and serve as curator of Deaf artists and De'VIA artwork at the Deaf Culture Centre.